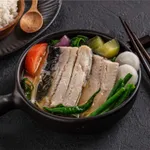 Milkfish in Tamarind Soup with Rice
A take on Filipino's favourite soup dish: Sinigang, or a tangy soup dish made with tamarind-flavoured broth. Topped with fresh and delicate milkfish, our version of Sinigang is best served hot with a bowl of simple steamed rice.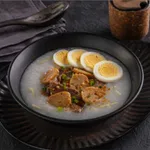 Kings Congee
A warm bowl of rice porridge, topped with beef slices, fish cakes, and sliced eggs. Every bite brings you back to the warmth at grandma's house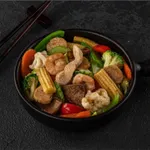 Chopsuey with Rice
A harmony of vegetables, stir fried with beef and seafood. Served with a bowl of steamed rice, it's a dish dancing with flavours on your tongue!