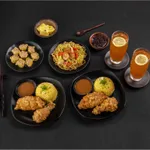 Double Deals Chinese Style Fried Chicken
Who said you can't have it all? Satiate your cravings with a four-piece hit of our signature Chinese-style Fried Chicken, cozy up with our egg fried rice, and let's not forget those buchi bites for that sweet aftertaste. Of course, it wouldn't be a deal without our heartwarming wonton soup and soft drinks to wash it all down!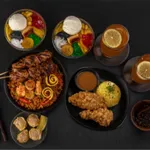 Double Deals Mix
Can't decide? Get a bit of everything! Indulge in our crispy Chinese-style Fried Chicken, fluffy egg fried rice, and succulent siomai. And because we know decisions can be tough, pick between our soul-soothing wonton soup, refreshing halo halo, or classic canton. Round it off with a bubbly soft drink, and you've got a meal that mixes it up just right!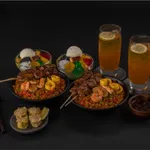 Double Deals King Chaofan
Dive into a royal feast fit for, well, two! Double the King Chao Fan and double the fun, all perfectly paired with that delectable Chicken BBQ. And because we love spoiling you, there's buchi for your sweet tooth and a delightful wonton soup to warm your soul. Drink up with our soft drinks and let the feasting begin!