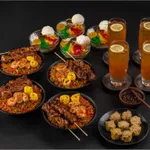 BIG BUNDLE FOR 4 - King Chaofan
Feast like royalty without the royal duties! Dive into a sumptuous spread of 4 King Chaofans, 8 delectable Chicken BBQs, 8 tempting Chicken Siomais, and 4 mesmerizing Halo halos. All perfectly washed down with 4 bubbly Soft Drinks. Bring your appetite, we'll bring the banquet!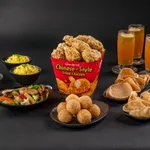 BIG BUNDLE FOR 4 - Chinese-Style Fried Chicken
Feeling clucky? Indulge in our crispy, mouth-watering 8pcs of Chinese-style Fried Chicken, paired with fluffy Egg Fried Rice, and a side of vibrant Chopsuey to tantalize your taste buds. And for that sweet ending? 8 irresistible Buchis await. Stay thirsty? We've got 4 Soft Drinks to keep the conversation flowing.